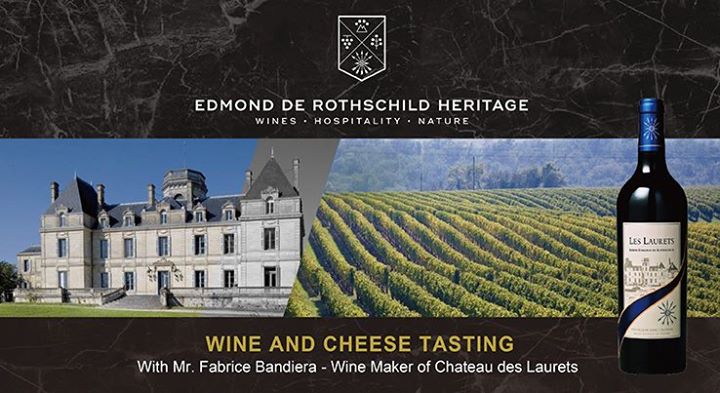 Jebsen Fine Wines and Edmond Rothschild de Heritage cordially invite you to attend the Wine Tasting Event at Decanter @ WHISK, the Mira Hong Kong on Mar 23, 2018.
Mr. Fabrice Bandiera, the Winemaker of Chateau des Laurets, would guide you to explore the journey of a range of classic Bordeaux wines under Edmond Rothschild de Heritage family. He would also explain how to manage the balance of power and elegance working with the terroir and the harmonious blending between Cabernet Sauvignon, Merlot and Cabernet Franc, plus how the taste of wines are enhanced by pairing with different types of cheese owned and produced by the family.
Very limited seats available! Enroll now!
Date: 23rd March , 2018 (Friday)
Time: 7:00pm – 9:00pm
Venue: Decanter Room – WHISK, 5/F, The Mira Hong Kong, 118 Nathan Road, Tsim Sha Tsui
Guest: Mr. Fabrice Bandiera (Wine Maker of Chateau des Laurets)
Fee: HK$180 per person
Menu:
https://goo.gl/qFoPnp
Wines to be tasted:
– Le Merle Blanc de Chateau Clarke 2016
– Chateau Clarke 2008
– Chateau de Malengin 2015
– Chateau des Laurets 2014
– Les Laurets, Baron Edmond de Rothschild Magnum 2005
– Les Laurets, Baron Edmond de Rothschild 2015
To reserve your seat, pls contact:
– 2926 2179 ivytsang@jebsen.com
– 2926 2269 martinli@jebsen.com
– 3180 3424 paulinecheung@jebsen.com