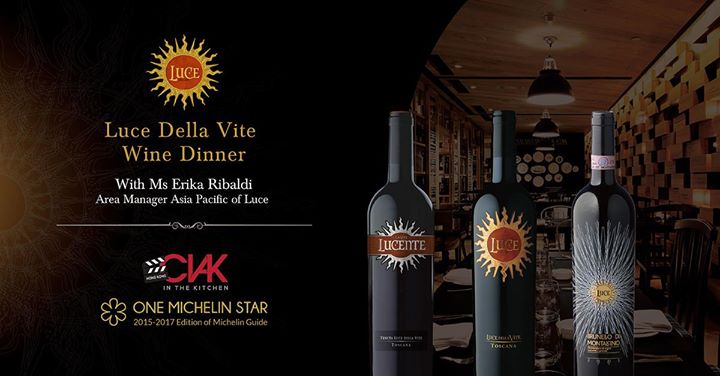 The Luce Estate, excellent Tuscan wines!
Jebsen Fine Wines is happy to introduce a Luce della vite wine dinner at CIAK in the kitchen on 22nd March 2018 (Thursday) to you. Luce della vite is a famous cellar known for its Montalcino Wine, one of the best wines produced in Italy.
CIAK – In The Kitchen which awarded 1 Michelin Star in 2015, 2016 & 2017, serves refined traditional Italian dishes, centered on artisanal craftsmanship. Ms Erika Ribaldi, Area Manager Asia Pacific of Luce, will present you the real taste of Tuscany and guide you through a memorable evening.
Very Limited seats available! Enroll now!
Date: Mar 22nd, 2018 (Thursday)
Time: 7:00pm – Cocktail; 7:30pm – Dinner
Venue: CIAK – In The Kitchen – 3/F Landmark Atrium, 15 Queen's Road Central, Hong Kong
Guest: Ms. Erika Ribaldi (Area Manager, Asia Pacific of LUCE)
Fee: HK$900 per person (plus 10% service charge)
Menu:
https://goo.gl/PwUdE8
Wines to be tasted:
– Attems Pinot Grigio Venezia Giulia IGT 2016
– Attems Cicinis Collio DOC 2012
– Lucente Toscana IGT 2015
– Luce Brunello di Montalcino DOCG 2012
– Luce Toscana IGT 2014
– Luce Toscana IGT 2009 (magnum)
– Gappa di Luce
To reserve your seat, pls contact:
– 2926 2179 ivytsang@jebsen.com
– 2926 2269 martinli@jebsen.com
– 3180 3424 paulinecheung@jebsen.com