Whisky Live HK 2018
20 October, 2018 @ 1:00 pm

-

11:00 pm

HKT

HK$200 – HK$1080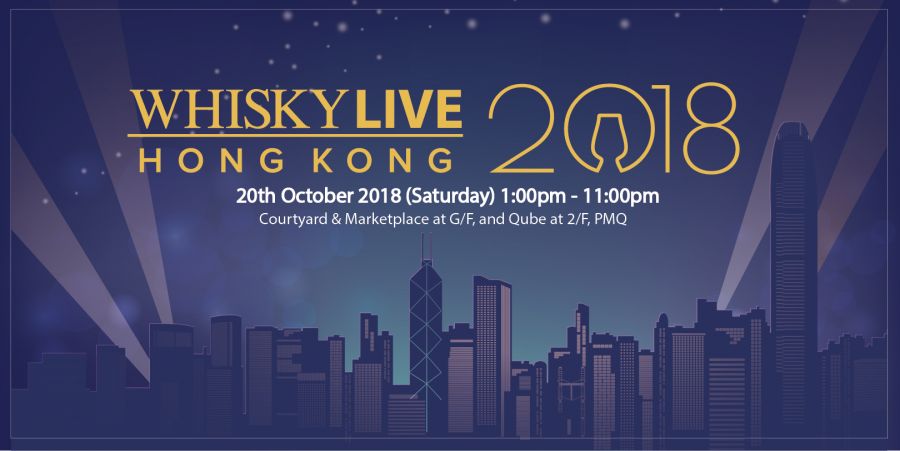 Returns to Hong Kong Again!
This year is the third year for Whisky Live, the best whisky festival among the world, to be held in Hong Kong. There have been more than 35 cities worldwide joining every year. This amazing occasion is a prime opportunity where whisky enthusiasts can mingle with world-renowned whisky makers, master blenders and brand ambassadors. Participants are also able to taste whiskies from different countries and distilleries.
Last year, 2,000 tickets of the second edition of Whisky Live Hong Kong were sold out in less than 2 week's time. In light of the great success, Whisky Live Hong Kong 2018 will be organized at the PMQ, Central, in order to accommodate more whisky lovers and organize different enjoyable activities for participants in such a convenient location. We are also bringing more entertainment besides whiskies.
This year we will showcase more than 200 whiskies, offer master classes, concoctions from Hong Kong's premier mixologists, whisky and food pairings from renowned chefs, and a range of entertainment programs with high-end lifestyle focus, we are bring more culinary experience to match whiskies from different regions.
Rhythm in a Cask Music Festival!
Another most exciting highlight of Whisky Live HK 2018 is the Rhythm in a Cask Music Festival. Groups of talented artists and musicians will gather and show their music talent. Coming from different musical backgrounds, Sophy Wong, Wat De Funk, Adrian Fu and R.o.o.t. (Running Out of Time) are no stranger to active music lovers in Hong Kong. Their impressive all rounded musical abilities from song writing, production to live performance represent what modern day artists are capable of. This festival, with a focus on 'Rhythm', is a Hybrid of Funk, R&B, Jazz, Soul, Blues…etc, the sound which you don't normally find in indie band gigs, and are always undermined from local live houses.explores the scope of nowadays music genres in HK, also provide a perfect vibes for chilling out and quality whisky tasting.
Whisky Magazine HK & Macau
Whisky Magazine was launched in 1998 in England, then launched in 2011 in Taiwan. In 2016, the first Hong Kong & Macau Chinese Edition was launched in Hong Kong, by a group of professional whisky connoisseurs and experts in media sector. This is also the FIRST whisky dedicated magazine published in Hong Kong.
Whisky Magazine celebrates this most wonderful drink in all its magnificent diversity. Devoted exclusively to whiskies & spirits, it brings you news, features, reviews and the tasting of the top whiskies & spirits. It explores the lifestyle of whisky & spirits – the bars, hotels, travel, fine dining and the pleasures of whisky and living. It also regularly explores the secrets, mystery and essence of the product; great distilleries, the maturation process, the influence of oak, whisky heroes…the list goes on.
Early Bird Special Offers
Standard Ticket Early-Bird
Original: HK$450
Early-Bird Offer is valid till 5th October 2018

Day Pass to Whisky Live HK 2018 from 1pm – 10pm:

Access to G/F Courtyard & Market Place from 1pm-10pm; 2/F The Qube from 1pm-6pm

Sampling of Complimentary Drams from 1pm-6pm

3 Tasting Tokens to redeem premium whiskies, cocktails and food, worth HK$30 each. (Number of tokens required depends on the whisky, cocktail or food respectively. You could buy extra tokens at HK$30 each for more redemptions.)

1 Cocktail Coupon worth HK$60

One Free Whisky Live HK logo Mini Glencairn Whisky Glass (worth HK$180)

Special Discount on whiskies ordering onsite

Special Discount on whiskies ordering onsite
Standard Group Ticket Early-Bird
Original: HK$450
Early-Bird Offer is valid till 5th October 2018

Offer limited to group purchase of 5 or above at a time.

Day Pass to Whisky Live HK 2018 from 1pm – 10pm:

Access to G/F Courtyard & Market Place from 1pm-10pm; 2/F The Qube from 1pm-6pm

Sampling of Complimentary Drams from 1pm-6pm

3 Tasting Tokens to redeem premium whiskies, cocktails and food, worth HK$30 each. (Number of tokens required depends on the whisky, cocktail or food respectively. You could buy extra tokens at HK$30 each for more redemptions.)

1 Cocktail Coupon worth HK$60

One Free Whisky Live HK logo Mini Glencairn Whisky Glass (worth HK$180)

Special Discount on whiskies ordering onsite
Premium Ticket Early-Bird
Original: HK$1,080
Premium Tickets are limited to 500 only, First come first serve

Early-Bird Offer is valid till 5th October 2018

Day Pass to Whisky Live HK 2018 from 1pm – 10pm:

Access to G/F Courtyard & Market Place from 1pm-10pm; 2/F The Qube from 1pm-6pm

Sampling of Free Drams from 1pm-6pm

4 Rare Drams Coupons

3 Tasting Tokens to redeem premium whiskies, cocktails and food, worth HK$30 each. (Number of tokens required depends on the whisky, cocktail or food respectively. You could buy extra tokens at HK$30 each for more redemptions.)

1 Cocktail Coupon worth HK$60

One Free Whisky Live HK logo Mini Glencairn Whisky Glass (worth HK$180)

Priority to purchase Premium Bottles at Special Price

Special VIP Gift from Whisky Live HK

And more……

And more……
Premium Group Ticket Early-Bird
Original HK$1,080
Premium Tickets limited to 500 only, First come first serve

Offer limited to group purchase of 5 or above at a time.

Early-Bird Offer is valid till 5th October 2018

Day Pass to Whisky Live HK 2018 from 1pm – 10pm:

Access to G/F Courtyard & Market Place from 1pm-10pm; 2/F The Qube from 1pm-6pm

Sampling of Free Drams from 1pm-6pm

4 Rare Drams Coupons

3 Tasting Tokens to redeem premium whiskies, cocktails and food, worth HK$30 each. (Number of tokens required depends on the whisky, cocktail or food respectively. You could buy extra tokens at HK$30 each for more redemptions.)

1 Cocktail Coupon worth HK$60

One Free Whisky Live HK logo Mini Glencairn Whisky Glass (worth HK$180)

Priority to purchase Premium Bottles at Special Price

Special VIP Gift from Whisky Live HK

And more……
Evening Ticket Early-Bird
Original: HK$350
Early-Bird Offer is valid till 5th October 2018

Evening Pass to Whisky Live HK 2018 from 6pm – 11pm

1 Tasting Tokens to redeem premium whiskies, cocktails and food, worth HK$30 each. (Number of tokens required depends on the whisky, cocktail or food respectively. You could buy extra tokens at HK$30 each for more redemptions.)

1 Cocktail Coupon worth HK$60

Optional: Glencairn Whisky Glass (Whisky Live 2017 edition worth HK$180) at a special price of HK$90

Special Discount on whiskies ordering onsite

Evening Pass to Whisky Live HK 2018 from 6pm – 11pm
Evening Group Ticket Early-Bird
Original: HK$350
Early-Bird Offer is valid till 5th October 2018

Offer limited to group purchase of 5 or above at a time.

Evening Pass to Whisky Live HK 2018 from 6pm – 11pm

1 Tasting Tokens to redeem premium whiskies, cocktails and food, worth HK$30 each. (Number of tokens required depends on the whisky, cocktail or food respectively. You could buy extra tokens at HK$30 each for more redemptions.)

1 Cocktail Coupon worth HK$60

Optional: Glencairn Whisky Glass (Whisky Live 2017 edition worth HK$180) at a special price of HK$90

Special Discount on whiskies ordering onsite
Rhythm in a Cask Ticket Early-Bird
Original: HK$250
Early-Bird Offer is valid till 5th October 2018

Evening Pass to Whisky Live HK 2018 from 6pm - 11pm

You could buy tokens at HK$30 each for more redemptions for whisky, cocktail or food respectively. Number of tokens required depends on the whisky, cocktail or food respectively.

Optional Whisky Live HK x Glencairn Whisky Glass (WL 2017 edition worth HK$180) at discount price of HK$90

Special Discount on Whiskies Ordering onsite