Vietti, Piedmont, Italy:
The history of the Vietti winery traces its roots back to the 19th Century. Patriarch Mario Vietti,
starting from 1919, made the first Vietti wines, selling most of the production in Italy. The Vietti
winery quickly grew to one of the top-level producers in Piedmont. Alfredo was also one of the
first to select and vinify grapes from single vineyards. 
Kracher, Burgenland, Austria:
Weinlaubenhof Kracher is located in the picturesque village of Illmitz, and possesses an excellent
reputation in crafting fine botrytis wines. In 1981, Alois Kracher took charge of the wine production
and has, until his death in 2007, established Kracher wines as the best in its class. Still today, he is
considered as one of the world's greatest dessert wine makers of all time.
---


Menu:
Amuse-bouche 
Roero Arneis 2017 Vietti
Tatin di foie gras e mele
Tatin of foie gras and apples
Cuvee Beerenauslese 2017 Kracher

Petto di quaglia affumicato, patate dolci e acciughe
Lightly smoked quail chest, sweet potatoes and anchovies
Barbera d'Asti TreVigne 2017 Vietti

Ravioli alla carbonara con tartufo nero
Home-made carbonara ravioli with black truffle
Barbaresco Masseria 2014 Vietti

Filetto di manzo arcobaleno
Slow cooked Beef Filet with vegetable charcoal and rainbow sauces
Barolo Castiglione 2014 Vietti

Crème brûlée bianca
White crème brûlée
Trockenbeerenauslese No. 2 Scheurebe 2009 Kracher

---
Date: 27th Feb 2019, Wed
Time: 7pm Welcome Drink; 7:30pm Wine Dinner
Original Price: HK $998+10%
Guest Speaker:
Urs Vetter (Commercial Director of Vietti)
Gerhard Kracher (Winemaker of Kracher)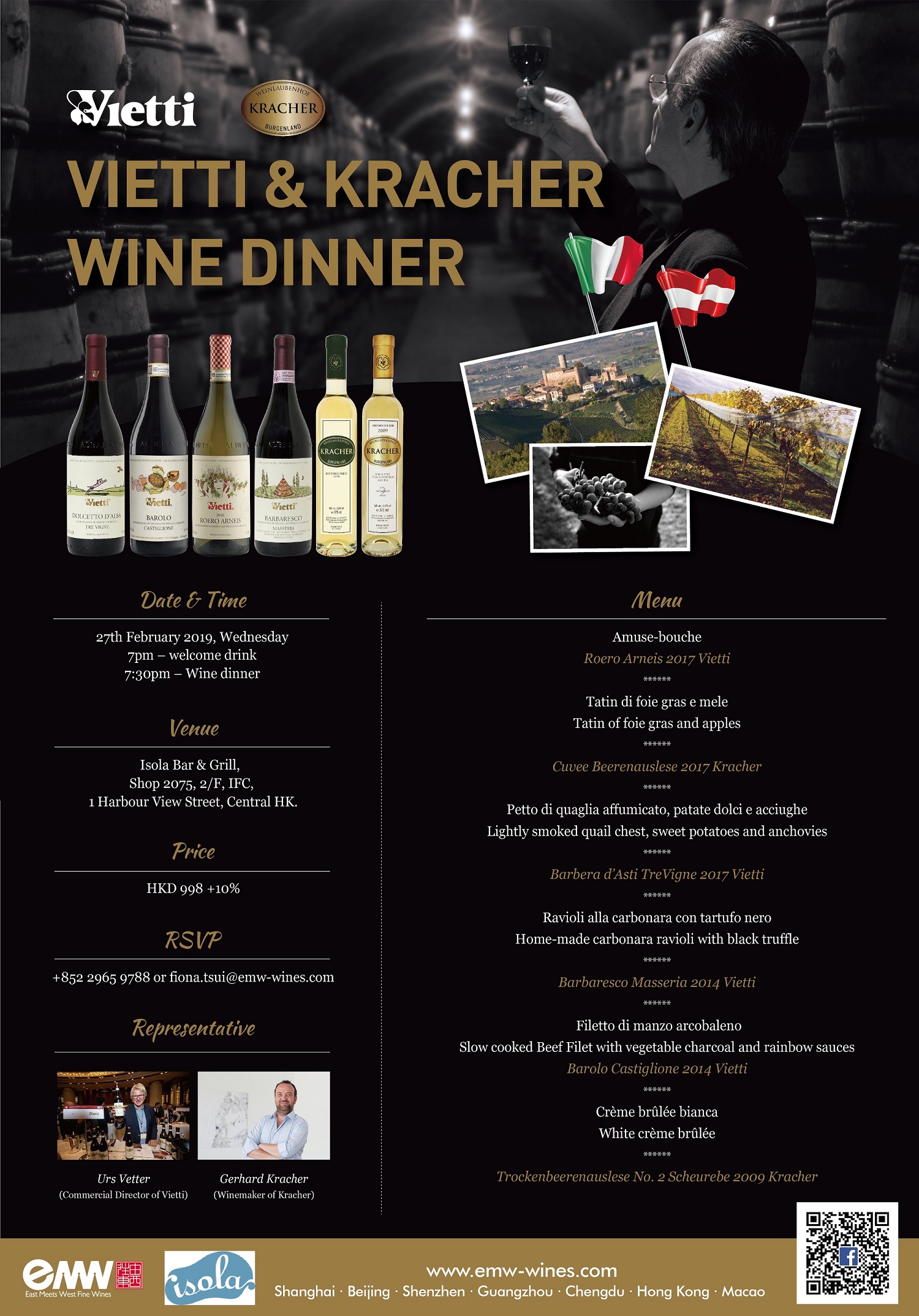 For more information please refer to our facebook – "emwfinewines.hk" or contact Fiona Tsui via +852 2965 9788 or fiona.tsui@emw-wines.com.