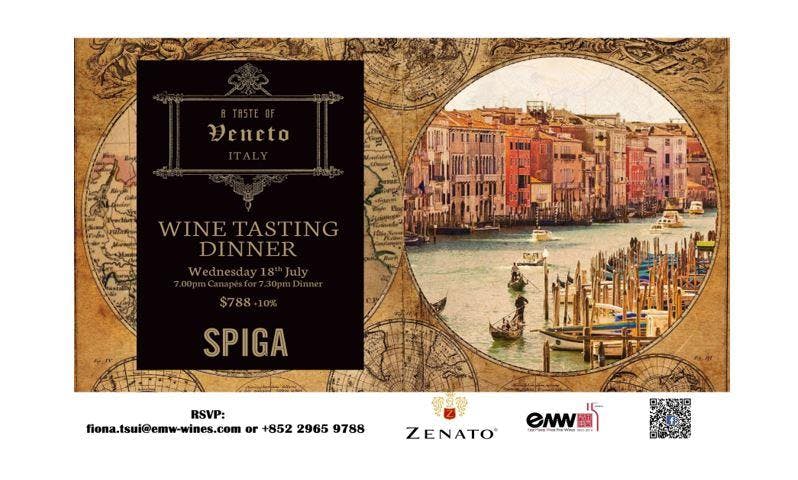 Zenato Winery:
It all began in 1960 when Sergio Zenato, a fond winemaker, experimented with new techniques and invested in native vines in order to obtain wine of the highest quality out of his vineyards in Lugana and Valpolicella. His Amarone is considered one of the most valuable Valpolicella wines in Italy and the world. He was also the first to re-discover an ancient method of Valpolicella by then long neglected:
the "Ripassa", made by "repassing" the wine over the pressed grapes of Amarone. Zenato is truly the soul of Lugana and the heart of Valpolicella.
---


Menu:
– APERITIVO –
Bisol Prosecco "Jeio" Rose Brut NV
– PERLE DI MARE –
Sea Pearls
Zenato Soave Classico "Colombara" 2016

– GAMBERI ALLA BUSERA –
Prawns "Busera"  
Zenato Lugana Riserva "Sergio Zenato" 2014

– BIGOLI CON POLIPO –
Bigoli Pasta with Octopus
Zenato Corvina Merlot "Cormi" 2013

– SPEZZATINO CON POLENTA –
Pork and Beef stew with polenta
Zenato AMARONE Valpolicella Classico DOCG 2013

– SPIGA TIRAMISU –
---
Date: 18th July 2018, Wed
Time: 7pm Canapes; 7:30pm Dinner
Price: HK $788+10% – BUY 6 GET 1 FREE!!!!